Dress Form Basics
| | |
| --- | --- |
| Order your today---------> | 2Checkout.com Inc. (Ohio, USA) is a payment facilitator for goods and services provided by Classact Designs. |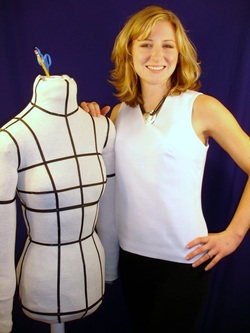 Dressform Basics is a class on CD showing you how to cover any dress form and add all the essential design lines. Your instructor is Jean Haas.
A step-by-step guide that teaches you the the secrets, tips, and techniques you need to know to professionally finish your custom dress form.You'll learn everything you need to know to fully customize your existing dress form. Don't let your dress form go naked anymore! Order yours now! This Dress Form Ebook makes it easy for you to professionally finish any dress form so that you will be able easily see how to design clothing with ease! You can even print out the pages.You will learn:
How to make a Dress Form Cover
How to set your vertical lines
How to set essential horizontal lines
How to place crucial sleeve lines for sleeve designs
A detailed supply list with items from your local sewing stores
How to add Design Features from other garments
Make all your pattern fitting precise with these permanent design lines
How to place your jewelry for design lines
Secrets to enhancing your figure
Understand the functions of these lines and how they are used
How to add various sleeve lengths
And Much Much More
This is the sewing class that you won't want to miss! You need to prepare your dress form the professional way so that you can easily see where all your fitting needs are. You owe it to yourself to your pattern making a no brainer!
Highly recommended. Available on CD or download
.
Note: This book on CD is only available for PC users only.
Now Shipping! Order Today!
$29.97
---
---
---
Customers who bought this item also Bought